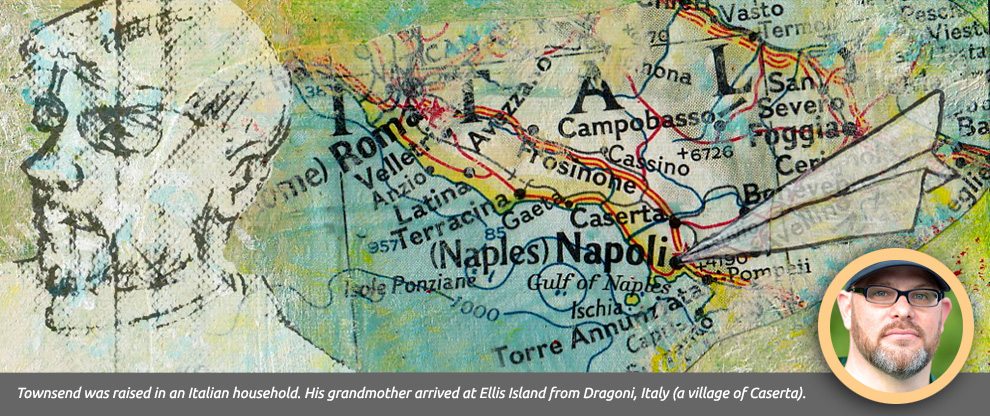 EARLY YEARS
Townsend learned to crawl and draw at the same time. His first scribble was a rabbit. His mother regularly drove him to the Museum of Natural History and Hayden Planetarium in New York where his imagination ran wild. He drew animals and gazed upon star shows for hours. At Lyncrest Elementary School (Fair Lawn NJ), he wrote a lengthy poem on the fall of Pompeii (Italy) and published haiku in the local newspaper. His first exposure to technology was building robots in the school's Gifted & Talented (G&T) program.
COLLEGE
Townsend earned his first dollar in marketing as a student at the University of Richmond (1992). He designed music packaging for local groups. During a rare snowstorm, when he was prepared to present to his sculpture class, he instead walked the class to a nearby field where his band performed. The band again joined him in a Japanese art and culture class to perform a reworking of a beloved renga poem. Townsend was a regular contributor to The Messenger, a Richmond-based literary magazine. One of his short stories (Torn) was runner-up for the Margaret Owen Finck Award for Creative Writing.
PROFESSIONAL CAREER
Townsend's agency career began at Landslide Creative Services (1994). A former classmate saw his potential and offered an internship-to-hire arrangement. He then contributed at a division of The Martin Agency (Richmond VA), Zinc Agency (Washington DC), SQN Branding, Billy Casper Golf (Tysons Corner VA), SplashKit, ESTMKTG, and now leads Glimpse Digital (Fairfax VA).
INNOVATION
Townsend has always been driven by doing things better. His modifications to a line of beanbag chairs for Gold Medal Products (Richmond VA) directly lead to today's loungers for gamers. He transformed a bulky annual report for Pact International (Washington DC) into a menu you could unfold and read in minutes. To challenge architects, he once portrayed Washington DC as a plain ice cube tray (turned upside down) on the cover of the American Institute of Architects' monthly magazine. He was an early adopter (and later opponent) of Flash technology on websites. He pushed the merits of ebooks and released work through a digital imprint while the publishing industry wondered what was next.
Townsend has served over 400 brands through his marketing work, including members of the Dow 30, Fortune 100/500, startups and challengers. Here are 20 household names you'll recognize: Pfizer, Navy Federal Credit Union, First National Bank, Absolut Vodka, Universal Music Group, Sotheby's, Mitsubishi, Saab, Skanska, Cort Furniture, Leo A Daly Architects, American Institute of Architects, American Red Cross, Goodwill, Catholic Charities, B'nai B'rith, National Rifle Association, University of Richmond, University of North Carolina, Rutgers University and James Madison University. Nearly all of these organizations were founded 75 to 275 years ago.
Townsend has been recognized for excellence in creativity, efficiency and innovation on 8 separate occasions by The Webbys, PR Week magazine, American Marketing Association, Society for Marketing Professional Services, Service Industry Advertising Awards, Washington Business Journal, Kickstarter, and the Northern Virginia Technology Council. Details can be found here:
Backgrounder >> Awards
.
Townsend refreshes his writing samples at
Carbonmade
and his visual design samples at
Behance
.
Townsend has authored 23 books in self improvement, music, sports, humor, fiction, and poetry.
His most recent publication is the episodal sketchbook Paisley Prince (2019), which explores the childhood development and early career of Rock and Roll Hall of Famer Prince Rogers Nelson. He is putting the finishing touches on two books of poetry, Enzwell and The Sun Hangs Low, for an ongoing series inspired by Iceland called Poems Across Iceland. His most successful work to date has been The Legend of Tabula Raisa (2016) and an accompanying travel adventure series for children ages 6+. It was funded on Kickstarter, named "Staff Pick," tagged "New & Interesting," and recognized with a featured listing on their home page (#1 of 418 projects). The series has since launched and is protected IP with the USPTO and the U.S. Copyrights Office.
Townsend's innovative work with Go Booklets (est. 2012) has contributed to the rise of what fellow author James Patterson calls "small books" in electronic publishing. Visit his Amazon author page for more information.
Townsend has been a leadership mentor in the
Everwise
program since early 2013. The organization connects early and mid-career professionals with the influencers and insights that help them advance as senior professionals, managers, executives and founders. He has guided high-potential protégés to develop their leadership acumen and make the most of their capabilities. Protégés have included a national online organizer for Sierra Club Outdoors (UAW Local 2103), a senior marketing manager at Lyft, and a product manager at LiveRamp — all in San Francisco, a chief marketing officer at FOMO Media in Portland OR, a senior product designer at Twitter in Boston, and the founder of Dave Arcade in Midvale UT.